Kushnick | Pallaci PLLC Attorney At Law
New York Construction Law Firm
At the law firm of Kushnick Pallaci PLLC, we have a simple philosophy:
"Provide high-quality, cost-effective legal services to the construction industry and help establish and implement a plan to avoid problems in the future and solve problems today."
Kushnick Pallaci PLLC is your trusted partner for all construction legal matters in New York. We are a dedicated team of experienced construction attorneys serving clients in the construction industry throughout New York. With our deep knowledge of New York construction law and experience in handling complex construction disputes, we are the go-to choice for clients seeking a reliable New York construction attorney.
Our Services:
Construction Dispute Resolution:
Negotiation and mediation: Our skilled attorneys excel in resolving construction disputes through negotiation and mediation, helping clients reach favorable agreements swiftly and efficiently.
Arbitration: We have a strong track record representing clients in arbitration proceedings, advocating for their interests and achieving fair resolutions.

Litigation:
When litigation becomes necessary, our attorneys provide robust representation in construction litigation cases, leveraging their courtroom experience to protect our clients' rights effectively.

Contract Drafting and Review:
We understand the critical role well-drafted contracts play in the construction industry. Our attorneys meticulously draft and review construction contracts, ensuring our clients' rights are safeguarded, risks are minimized, and contractual obligations are clearly defined.

Construction Defect Claims:
If you have encountered construction defects in your New York project, our attorneys will diligently analyze the situation, determine liability, and pursue legal action to seek appropriate compensation for damages suffered.

Payment Disputes and Mechanics' Liens:
We assist clients in resolving payment disputes, including issues of non-payment, improper billing, and collections. Additionally, we navigate the complexities of mechanics' lien matters, helping clients secure their payment rights and navigate lien enforcement procedures effectively in accordance with New York law.

Insurance Claims and Coverage Disputes:
Our attorneys have extensive experience handling insurance claims related to construction projects in New York. We advocate for our clients to ensure fair compensation for covered losses and effectively address any disputes that may arise regarding insurance coverage.

Why Choose Us:
 Our team of construction litigation attorneys possesses in-depth knowledge of New York construction law and stays updated with the latest industry trends and legal developments. This expertise allows us to provide tailored and effective legal strategies to protect our clients' interests.
Client-Centric Approach: We prioritize our clients' needs and objectives, providing personalized attention and clear communication throughout the legal process. Your satisfaction and success are our primary goals.
Strategic Representation: We approach construction disputes with a strategic mindset, aiming to resolve them efficiently and cost-effectively. Our attorneys meticulously analyze each case's merits, develop strong legal strategies, and strive for favorable outcomes.
Proven Track Record: Our firm has a strong track record of successfully representing clients in a wide range of construction litigation cases throughout New York. We have earned a reputation for excellence, integrity, and professionalism.
Collaborative Partnership: We believe in building strong relationships with our clients based on trust and collaboration. We work closely with you, keeping you informed and involved at every step of the legal process, ensuring transparency and a deep understanding of your case.
If you're in need of an experienced and skilled New York construction attorney, contact us today. We are committed to providing comprehensive legal solutions and guiding you through the complexities of construction disputes in New York, protecting your rights, and helping you achieve the best possible outcomes for your construction projects.
A Passion for Construction Law
The attorneys at Kushnick Pallaci PLLC provide our clients with a full spectrum of legal protection across the State of New York with a particular emphasis on construction law in New York City (Manhattan, Queens, Brooklyn and the Bronx) and Long Island (Nassau County and Suffolk County).  We pride ourselves on being a "one stop shop" for the construction industry and we can handle your construction law issues in any of New York's 62 counties.  Because we know and understand the construction industry, we can often identify problems that other attorneys may not be aware of and offer solutions that other attorneys may not know of.  We encourage client interaction and strongly suggest regular contact with the client to make sure that potential problems are identified and solved as soon as possible.  Often, clients will not even be aware that an issue exists but our skilled attorneys will identify the issues and implement a plan to protect your business before the issue turns into a time consuming and expensive problem.  Whether you have an OSHA violation, a problem with the Department of Buildings, a collection problem, need a construction license agreement, have a mechanic's lien issues, an insurance dispute or a defective work claim, our attorneys are here to help.
New York Construction Attorneys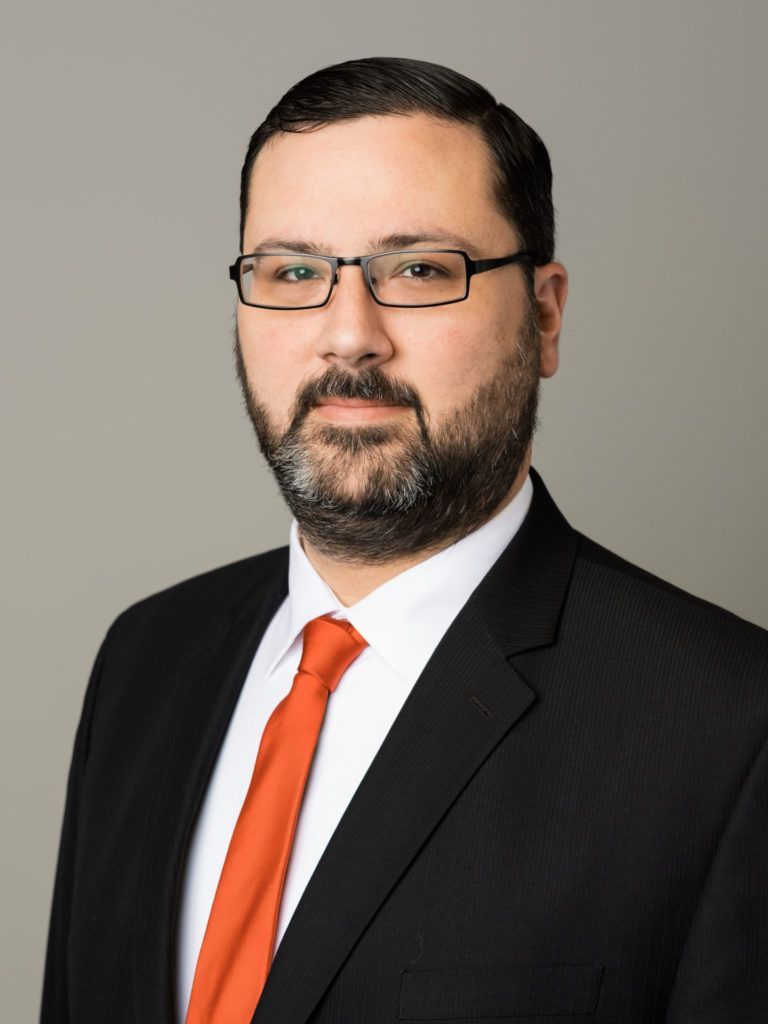 Vincent Pallaci
Managing Member
Vincent T. Pallaci is a founding member of Kushnick Pallaci PLLC and is the firm's managing member, personally overseeing all day to day operations of the firm.  Mr. Pallaci's practice focuses mainly on complex construction, real estate and insurance litigation. He represents a wide array of players in the construction industry ranging from general contractors, developers, owners and construction managers to project managers and subcontractors in a wide variety of disputes including defective construction, excavation and property damage claims, delay claims, scope of work disputes and mechanic's lien enforcement actions.  He has successfully represented clients in arbitration and mediation as well as State and Federal litigation.
In addition to his litigation practice, Mr. Pallaci also regularly represents clients in construction and design contract drafting and negotiation, labor and employment law issues, handling municipal violations as well as the preparation and review of mechanic's liens and lien waivers.
Mr. Pallaci has lectured and written more than 100 articles on construction law related topics including loss mitigation strategies and effective payment recovery options and is a former Chairman of the Nassau County Bar Association's Construction Law Committee.  He has been named a "rising star" by Super Lawyers Magazine every year since 2012.
We are a law firm that serves your interests. Contact us at Kushnick Pallaci PLLC at (631) 752-7100 or (212) 752-7155 to schedule a free initial consultation.
Kushnick | Pallaci PLLC Attorney At Law​
Need Help With a Legal Issue?
From contracts, to payment application disputes to construction defect claims we can help.  We can often assess your situation and your options during a free initial consultation. Contact us at (631) 752-7100 or (212) 752-7155 to schedule an appointment or contact us via the web by clicking here.